Puppy Pouncer™ by CatTamboo® are a durable teaser toy for small dogs! These pet toys are perfect for exercising dogs while in the home or in more confined spaces.
Puppy Pouncers™ are eco friendly, sustainable, and 95% biodegradable. We love our Mother earth and her creatures. We believe in being resourceful and bringing joy to the world.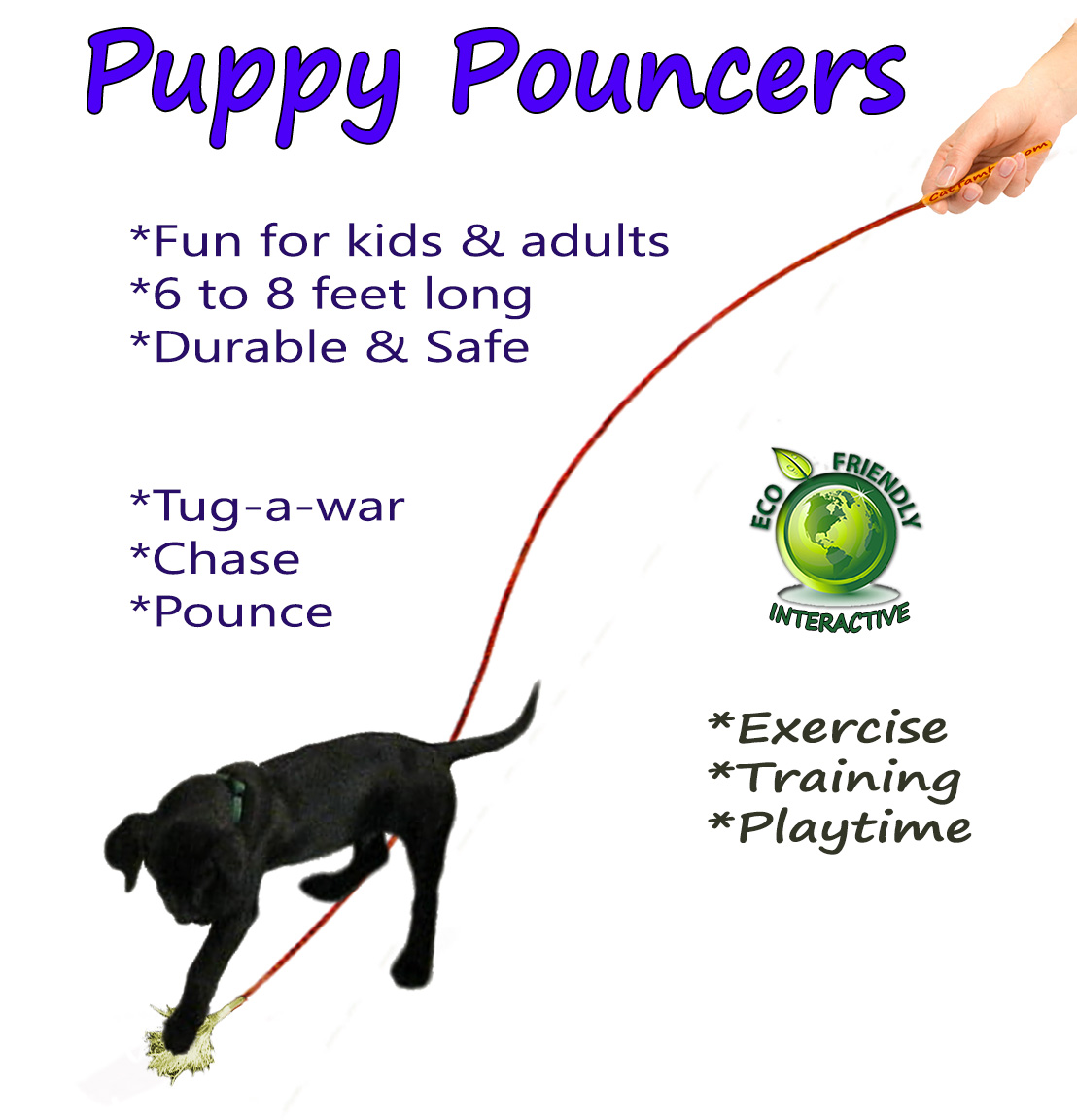 Puppy Pouncers – Toys for Small Dogs and Puppies
This teaser toy for dogs is designed to be durable, safe, and fun for all smaller pets. Durable enough to play rough with most small dogs and puppies, these dog toy bring pet owners a new tool for training, exercise, and fun! These unique wand style teaser toys use raffia grass to create an enticing object to chase. Since many dogs throughout history where breed to hunt rodents, it is natural for many breeds of dogs to want to chase after Puppy Pouncers. Puppy Pouncers by CatTamboo® are made almost entirely from organic, natural materials. Try one today!
---
DESCRIPTION: Puppy Pouncers
Puppy Pouncers are type of Tamboo Flyer™ by CatTamboo®. It is a type of interactive pet toy that is made with an all natural, tapered rod and all natural raffia grass. Puppy Pouncers are 95% organic and compostable! Puppy Pouncers are the most earth friendly interactive teaser toy available for dogs. Puppy Pouncer have many uses. They are excellent for training puppies. They are also wonderful for exercising dogs inside your home or while on the road. And if you own a show dog, then you know how important it is to get the necessary exercise and how challenging it can be when you are always on the road, staying in hotels, and at dog shows. Puppy Pouncers can be scented to assist in training. Their length is very convenient for the trainer and extends your range to make training easier and more effective. Puppy Pouncers are multi-functional and make life easier pet owners. Try one today!
---
CatTamboo® pet toys are fun for pets and people!
---