Premium Hand-Crafted Pet Toys
Returning customers please leave us a review on Google!
"Like fly fishing rods for your cats, small dogs, puppies, and ferrets! Over 6 feet long! Durable and Safe for all ages!"
CLICK AN IMAGE TO CHOOSE YOUR OPTIONS AND ADD TO CART.
Tamboo Flyers – Feather toys – Teaser toys – Interactive Cat Toys by CatTamboo®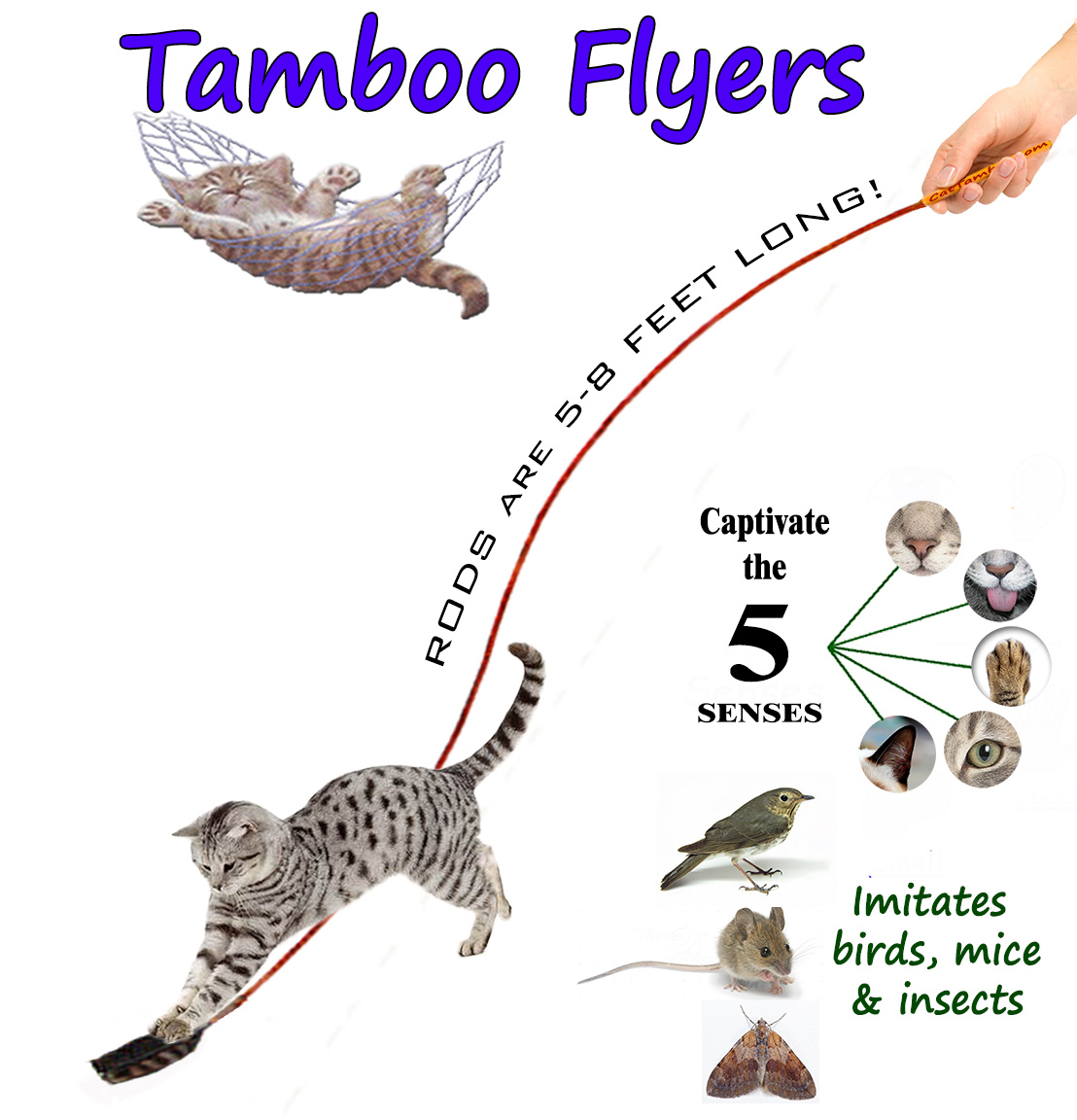 Tamboo® Flyers are fly fishing poles for cats. These unique wand style feather toys use the all natural rod to make feathers fly like birds. The feathers toys are located on the end of the rod which is reinforced for added ductility and strength in the area that needs is most. Tamboo® Flyer feather toys are designed to look like a real moth or bird by imitating their wings (much like fly fishermen do when tying flies to imitate bugs). These durable feather toys are designed to be fun for people. The smooth rhythmic flight performance is fun and easy to create! And much like with the sport of fly fishing, you can test and improve your skills! Tamboo Flyers® are safe for kids and pets! These premium hand-crafted pet toys are eco friendly, interactive, durable, and fun. Unlike other cat toys with dyed feathers and plastic rods, these eco cat toys are environmentally friendly, free of harmful chemicals and dyes, and 95% biodegradable! Tamboo Flyers provide lasting value to pet owners. CatTamboo pet toys go through rigorous testing and each toy is shipped with a repair piece to ensure lasting value. Our interactive cat toys are shipped in recycled pizza boxes via USPS mail and we guarantee shipping! Get yours today to find out why cats and cat owners are having a blast "Doing the CatTamboo".
---
---
We're Doing the CatTamboo! It's everything I really want to do. And if I ever got out of here, it what I'm gonna do! Wow..Ca Ca ca ca ca CatTamboo!
---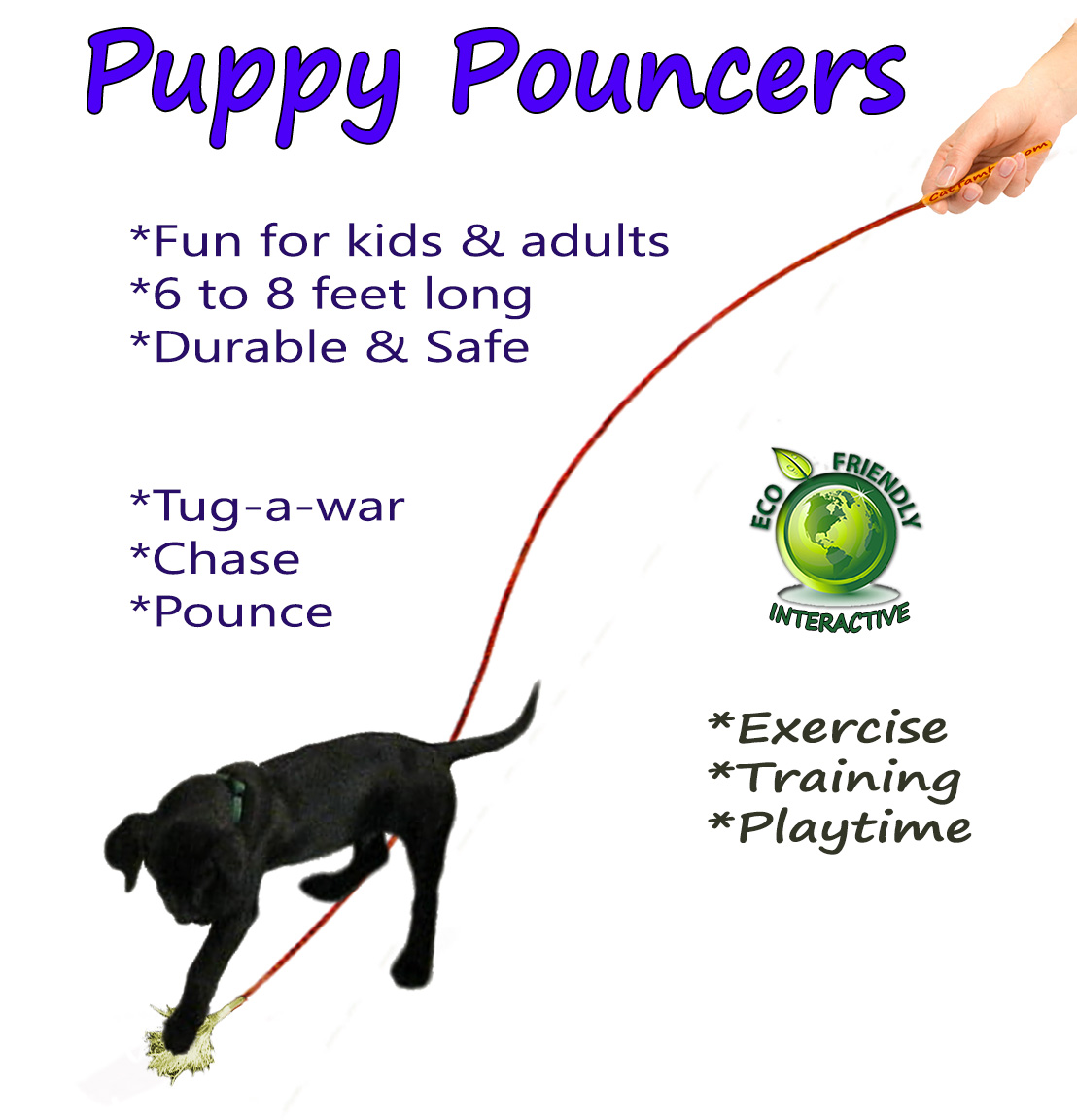 Puppy Pouncers are similar to Tamboo Flyer feather toys only with an innovative mouse toy mounted on the end of the rod.  These mouse toys are made from raffia grass; which is a durable, natural material that rustles like a mouse and is similar in size.  We designed the mouse toy to imitate a mouse in much the same way a fly fisherman ties flies in order to catch fish. By imitating a mouse, we engage the mouser instinct which is prevalent in many species of dogs.  It is actually in many breeds to hunt rodents, small mammals, and birds.  We designed these teaser toys specifically for small dogs, but larger dogs love them too!  Puppy Pouncers offer a more durable alternative to feathers so dogs can ply dog-of-war. These dog toys can be scented to assist in training exercises.  If you own show dogs, then look no further.  These dog toys will serve multiple purposes for dog owners who travel to dog shows.  Puppy Pouncer dog toys help you exercise your show dog while indoors and they help you have a little reach for teaching your show dog more complicated tricks.  Interactive dog toys are a wonderful way to play with and exercise small dogs. Puppy Pouncers™ are durable enough to withstand the pulling and chewing abuse of small dogs and aggressive cats. In addition, this teaser toy is 100% vegan! If your pet loves mice then it will love chasing these premium hand crafted Puppy Pouncer ™ pet toys.