Replacement Lures – Cat Flies
You can replace the feathers on your CatTamboo® interactive pet toy by purchasing any one of our unique feather toy replacement lures called Cat Flies.
A heat gun, lighter, or hot blow dryer are required. Must be 18 years or older.
PHEASANT FEATHER LURE
Order Replacement Lure with Pheasant Feathers
GOOSE FEATHER LURE
Goose – Orange
Goose – Natural
Goose – Aqua Blue
Goose – Pink
Goose – PurpOrder Replacement Lure with Goose Feathers
TURKEY WING FEATHER LURE
Turkey Wing – Orange
Turkey Wing – Natural
Wild Turkey – Aqua
Wild Turkey – Pink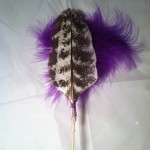 Wild Turkey – Purple
Wild Turkey – Red
Order Replacement Lure with Wild Turkey Wing Feathers
TURKEY TAIL FEATHER LURE
Order Lure(s) with Wild Turkey Tail Feathers
Vegan Cat Toys and puppy toys
Order Lures made from durable Raffia Grass
Benefits to purchasing feather toy replacement feathers for Tamboo Flyers- our unique cat wand toys.
CatTamboo® lures for Tamboo Flyer™ are a wonderful option for pet owners who are comfortable with making upgrades to their CatTamboo® Toys.
Each CatTamboo rod is uniquely hand crafted!!!
These replacement lures called Cat Flies™ can be used to replace the lure or Cat Fly™ without having to purchase a new Tamboo Flyer. The Cat Flies™ are available in a variety of colors and feather types.
You can purchase our unique cat toys and teaser toys for small dogs at our
online pet store
.