Eco Friendly Cat Toys:
Eco friendly cat toys are the way to go if your aim is to acquire the best cat toys possible. Eco friendly cat toys are the way of the future. Our earth is heavily burdened by plastic waste. It is time that we choose products that do a better job of respecting nature, for isn't it true that our pets love nature too?
When nature does it best and ingenuity does the rest.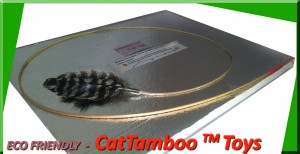 CatTamboo® eco friendly cat toys are unique, durable, safe for all ages, and extremely fun. These interactive cat toys are quickly becoming the newest crave in the cat world. They are addictive! Best of all, these eco friendly cat toys are super green! Over 70% of these green cat toys are compostable and biodegradable. Combine that with the fact that these cat toys out perform all other feather toys and you have a winning combination! These eco friendly pet toys also make fantastic teaser toys for small dogs. If you haven't tried one yet, check out the Demonstration Video here!
It isn't always easy to find the best eco products that are genuinely good for the environment. But with CatTamboo Eco Friendly cat toys, you get not only a green cat toy, but a green interactive cat toy that is superior to the competition.
Google eco friendly cat toys and you get all the name brand products that pay big money to rank high on the term eco friendly cat toys, green cat toys, interactive cat toys, eco cat toys, etc.  Big business can tweak a product in one slight way such as using organic catnip and then claim themselves or their product eco friendly in order to beat out competitors.
As a result of this competition, it has become increasingly important for suppliers of authentic, innovative, eco friendly pet products to integrate rich content into their websites so their organic search engine rankings rate well enough for consumers to find their products on major search engines.  It is also necessary for the manufacturers of such cat and pet toys and other green pet products to network within the Green Community in order to reach the public eye.  Green pet product suppliers can decide what is truly eco friendly and what is just a marketing gimmick. Customers are never fooled, but they also can't find the truly eco friendly products over the big name brands that dominate the market. For example, CatTamboo recently reached out to Greenlittlecat.com and their creator Holly who also wrote a book on making your own green, eco friendly cat toys (http://www.makeyourowncattoys.com/).  We have also connected with Brooke and Tim's Great Green Cat Toy which is another Green cat toy that is actually a self play cat toy. If you aren't familiar with self play cat toys versus interactive cat toys follow this link to learn more. But we need to reach major green product suppliers directly.
It takes the support of community to build a network of well linked sites that together that can compete with the big money corporations.  This is what Google wants and the world needs, because easy access to the best information on a topic (such as green pet products, green businesses, green products, eco friendly cat toys, and the like) is a signature of the world wide web and a mantra for all internet businesses.  I think if one could match SEO rankings for an interactive cat toy supplier to the sacrifices and commitment they have made to produce a truly eco friendly product, the world would be greener for it.
Tamboo rods as a product are eco friendly! So are the flies or Cat Flies that go on the ends of the rods. CatTamboo® pet toys utilize some very modern manufacturing technologies to make our unique wand toys. Tamboo rods are amazing. However, to manufacture using natural materials you need the right methods to control variables such as moisture content, wind exposure, sun exposure, age, soil nutrients, insect damage, harvesting practices, storage procedures, and more will all effect the quality of the raw materials which are refined for use in building our Tamboo rods.  Each Tamboo® rod (used in making our eco friendly cat toys and interactive toys for small dogs) must be meet our high standards for strength, durability, flexibility, ductility, shape, taper, and action.  As a result of this, intricate manufacturing procedures had to be developed in order to create the eco friendly line of pet products that we sell today.
It took years to work out the many solutions that makes it possible to bring people these eco friendly pet toys.  Crafting a Tamboo® rod and Hand tying the Feather toy or fly are truly modern miracles of nature and technology.
Eco friendly cat toys and all interactive cat toys in general have never reached such heights as CatTamboo.  We have created a feather teaser toy that is made from sustainable, green, eco friendly, and  partly compostable materials. CatTamboo's Tamboo rods and flyers reflect ingenuity; quality; efficiency; simplicity; safety; marketability; profitability;  and addictiveness by nature!
In addition to being eco friendly, our interactive cat toys are also Certified Green through the Green Directory of Montana.I think it will be a fine day for consumers when Google and similar businesses find non-intrusive but interactive ways to reward businesses that register a certified green product.
Here are some tags for CatTamboo: #eco friendly cat toys, #eco friendly pet products, #green cat toys, #green pet products, #sustainable pet products, #interactive cat toys, #interactive cat teaser toys, #fly fishing pet toys, #green pet toys, #eco cat toys, #unique wand toys, #long cat toys, #awesome cat toys, #amazing pet toys, #feather wand toys, #google is awesome!
CatTamboo pet toys are registered with the Green Directory, which is a good system because you can't buy your way to the top.  Their motto is:  Are you Green, Prove IT!
Eco friendly cat toys for home and family. Green pet products to support sustainable living. Green cat toys made from natural materials. The best interactive cat toys and dog toys.
We are committed to bringing consumers the best interactive cat toys and the best eco friendly cat toys in the world.  A green cat toy that is so addictive, beneficial, and fun that you will want to buy several just to share them with friends and family!  Get yours today and discover why you too will love to do the CatTamboo!