Self play cat toys versus interactive cat toys
We can make the comparison between self play cat toys versus interactive cat toys. Are they both good? What are the differences? When should you choose one over the other?
There are many factors to consider when deciding on the best cat toys to buy. The first decision you will want to make is whether or not to buy an interactive toy or a self play toy. Self play toys are an enticing option for many pet owners who don't feel they have time to play with their cats, however, cats lose interest in these cat toys and will often times stop playing with them all together.
The more interactive solution is usually the best solution because cats are just as interested in interacting with you as they are playing.
It is comforting to your cats to know that they have an audience; and they consider it quality time when you play with them. Here is an excellent article of what features to look for in the best interactive cat toys.

Cat Toys Made in the USA – Many Americans want to buy quality USA made pet toys. CatTamboo® cat toys are interactive cat toys. They are a unique style of wand cat toy that is similar to a light weight fly rod. These unique wand toys are made using both modern synthetics and all natural materials.
Conclusions regarding self play cat toys versus interactive cat toys
Self play cat toys can be either battery operated and basic. The basic self play cat toy uses an object such as a ball and places it in a track so your cat can swat at it and watch it move. Some of the more creative battery operated self play cat toys use feathers, lasers, or look like bugs. When cats are in a playful mood, they love this kind of play. Self play cat toys have their place. In today's busy world, our busy lives mean we are not home as often. Our cats need something fun to play with when we are gone. They also need quality play time with us when we are home. Self play cat toys versus interactive cat toys? They are both something that is good for your cat and they both have a place in a happy cats life.
Interactive cat toys by CatTamboo: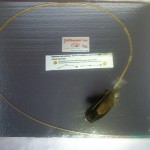 Choose from this selection of interactive cat toys
Where to buy CatTamboo® Pet Toys for Cats, Small Dogs, and Ferrets.
You can purchase our unique interactive cat toys and teaser toys for small dogs on this same website. To take advantage of shipping costs, you can order more than one cat toy at a time and receive significant savings. In addition, if you order the larger cat toys or more than a few cat toys, then the shipping container is a tube. Otherwise the pet toys are rolled, packaged in a recycled box, and shipped via USPS. Shipping is insured and packages usually arrive within 4-5 days of the order date. If you order after 5pm on Friday, your package probably won't ship until the following Monday.